I had been working on this head all day Friday. That night, I ended at a point that I was very very happy with, put everything away, cleaned up the mess of a kitchen and set it on the counter top for the finishing touches the next day. I went upstairs for a break from the kitchen. My bouncing baby girl came upstairs nonchalantly and sat next to me. After a few minutes we decided to go back downstairs to eat dinner. My husband had walked into the kitchen before me and with a tone of shocking disapproval said, "ALLI??!!" My heart instantly sunk! I walked into the room to a mangled dragon head. After eating many pieces of fondant that used to be there, it must have donned on her that the dragon head "scared" her. So she did what any other frightened 2 1/2 year old adolescent would do in that case which was...stab it to death! I think she succeeded!
I ended up taking off the bitten pieces that were left and some that were too badly damaged to keep and waited until morning to try it again. So after a dreadful attack by my devilish little girl, I finally ended up with this...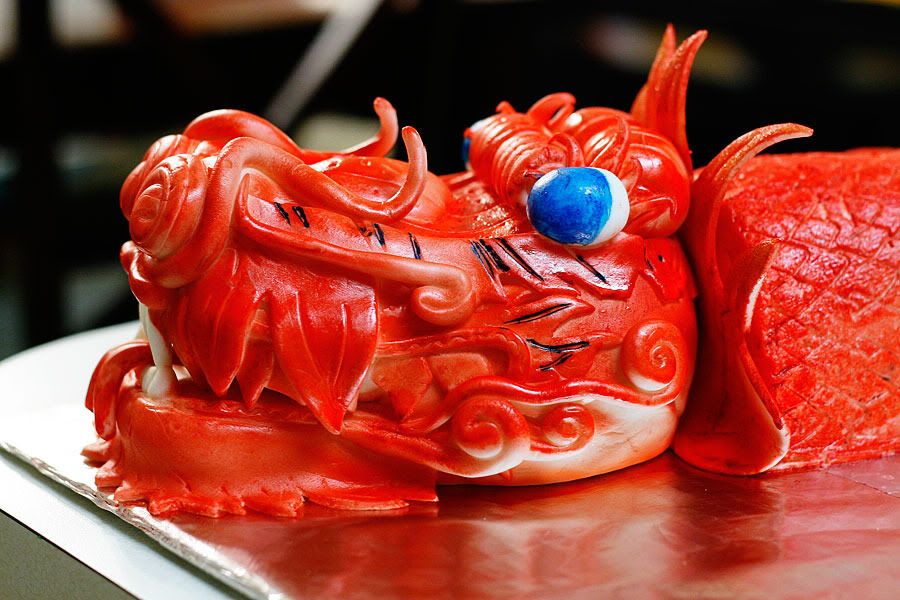 The head is made of sculpted rice crispy treats and covered in fondant. I followed a tutorial on how to make it
here
.
The body was chocolate cake and frosting. The scales were stamped by my wonderful and inspiring husband!